www.industryemea.com
Written on Modified on
GravoplyTM Laser is the new range of materials for interior signage applications available from Gravograph. Suitable for use on both laser machines and rotary engraving machines, GravoplyTM Laser is the most extensive material range on the market, with 78 product items. It is also a low-cost solution, as Gravograph lets all its customers benefit from economies of scale generated on the materials consumed by a worldwide installed base of more than 100,000 machines. In just a few months the Gravoply™ Laser range has become a new standard in Gravograph products.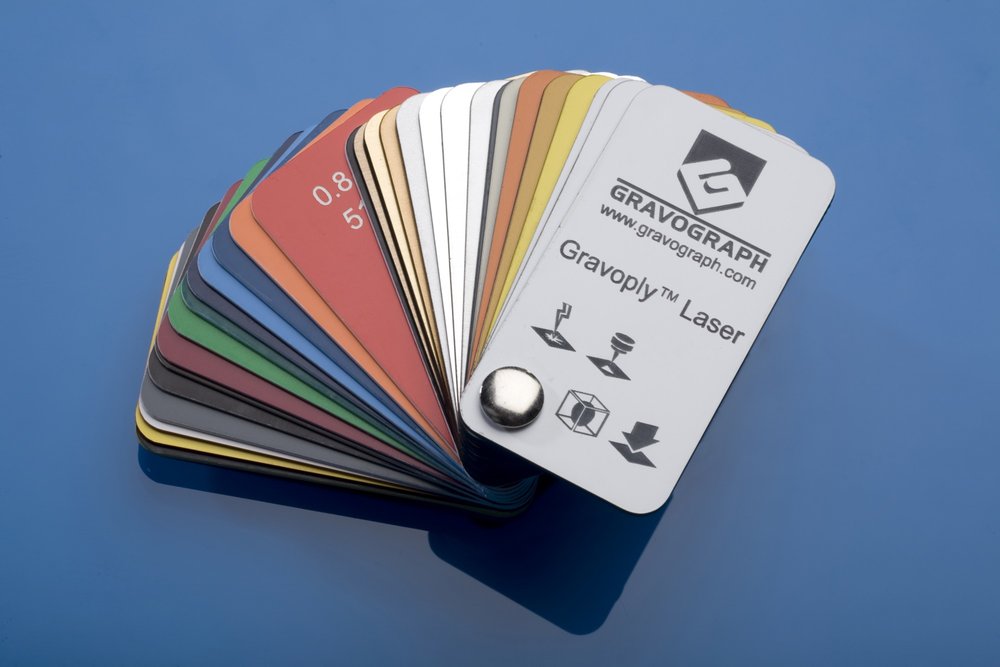 GravoplyTM Laser stands out through its broad range and its versatility: this new material is intended for laser applications, whether marking or cutting, and also for rotary milling applications. It allows very precise details to be engraved. Six core colours are available (black, white, red, blue, yellow and gold) with 25 cap (surface) colours, in two thicknesses (0.8 and 1.3 mm) and 3 finishes (matt, brushed and gloss), with or without adhesive, making this the most extensive range on the market. GravoplyTM Laser can meet all your needs for signage, badges, labels, identification plates and other applications. Its versatility allows customers to optimize their orders and above all their stock. The variety of options available can also enable customers to diversify their products and services, increasing their revenue.
Gravograph provides a number of services, including small or medium-volume runs of custom sizes to order, for example for badges, tokens or identification plates, which the customer can then just engrave. Specific non-catalogue colour combinations can also be produced to order. All the materials in the range are available from stock to ensure the shortest lead times. Many orders are dispatched in just a few hours, and more than 1000 shipments of materials are made each month.