www.industryemea.com
Written on Modified on
By: John Snyder, Southco Product Manager, Captive Fasteners.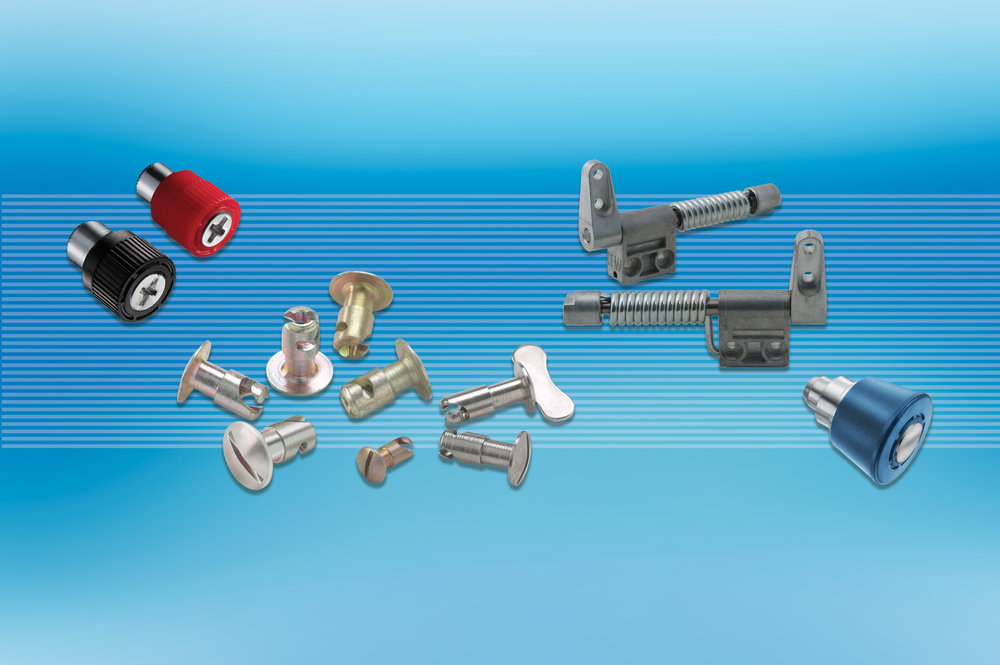 For machine builders worldwide, operator safety is of paramount concern. They must design safeguards to protect equipment operators, while providing service access that minimises downtime. Within the European Union, the new Machinery Directive 2006/42/EC going into effect on December 29, 2009 is part of an approach to harmonise standards and establish the regulatory foundation for health and safety requirements of machinery throughout that market. This directive serves the dual function of promoting free movement of machinery for sale throughout the EU market while ensuring appropriate levels of protection for workers and citizens – including requirements for attaching protective devices such as fixed, adjustable, and movable guards for restricting access.

Fixed Guards
Section 1.4.2.1 of the directive states that "Fixed guards must be fixed by systems that can be opened or removed only with tools. Their fixing systems must remain attached to the guards or to the machinery when the guards are removed. Where possible, guards must be incapable of remaining in place without their fixings."

Engineered fixing systems using captive hardware minimise problems commonly experienced with loose screws, nuts, or bolts. For example, loose hardware dropped into equipment can damage mechanical components or short out electrical connections. Missing nuts or screws lost in the field can tempt workers to compromise the performance of important safety guards or can extend downtime while replacements are obtained. And from a productivity perspective – whether during initial production or repetitive maintenance – engineered fixing systems that utilise captive, self-aligning designs improve assembly speed and convenience.

Within the requirements of the directive, equipment designers have leeway in the style, the physical performance criteria, the cost, and the convenience of operation for fixing hardware they might select. Captive fixing systems – where both the fastener and its mating point (for example a receptacle, insert, or tapped hole) remain attached to their mounting points – come in a variety of physical designs, each tailored to a different aspect of performance. For example, in applications requiring very precise alignment or clearance, captive screws with conventional machine threads can provide secure mechanical attachment in the most compact space.

Captive screws come in several styles, each with their own performance advantages. Standard machine-thread screws that provide precise, close-tolerance fit are available in multiple installation styles – including press-in, flare-in, snap-in, floating styles, and clip-on retainer rings – to satisfy specific material, mounting surface, and spacing requirements. Available designs include captive assemblies that fasten conveniently by hand but enhance safety by requiring a tool to release. Other designs can be recessed into the face of the protective guard to provide a virtually smooth surface on the exterior of the equipment. And to address the tool-only access requirements of the new directive, head styles can include Phillips, Torx®, tamper-resistant, or industry-standard tool driver styles.

One limitation of using captive screws is that ease-of-access can be variable – often determined by how tightly the user fastens the screw. In addition, when multiple fasteners are used or when the guard is accessed regularly, the time required to fasten conventional screws can become cumbersome. Where speed and ease-of-use are of higher priority, other designs offer increased convenience at lower installed cost. These include fast-lead screws and quick-access quarter-turn fixing systems.

Fast-lead screws offer additional productivity advantages. This type of fixing system is designed to fasten and unfasten with just a few turns. Its coarse thread design and floating assemblies resist cross threading and tolerate initial misalignment, while providing exceptional vibration resistance. One fast-lead screw assembly can accommodate a range of material thicknesses. And the variety of available captive receptacle designs makes it easier to accommodate a wide range of mounting configuration requirements.

Quick-access, quarter-turn fasteners provide quick and easy access that is particularly advantageous for repeat-access applications. Various designs available in metal and plastic constructions satisfy specific physical application requirements – maximum working load, dimensional tolerance, or vibration resistance. The systems are designed to provide a fixed fastening force that allows the designer to control not only access, but also the feel that the end user will experience. Each quarter-turn system includes a final detent feature designed into the fastening systems as a means of assuring the user that the fixing system is locked and the guard is secure.

And as with captive screws, numerous quick-access fastener head styles provide different options for tool-restricted access, and flush or low-profile installation. Self-ejecting options also provide a visual indicator for unfastened guards, while the spring-ejection feature helps clear fasteners out of the way in multiple fastener applications.

Adjustable Guards Restricting Access
As opposed to fixed guards which must be removable only with the use of tools, the new directive specifies that "adjustable guards restricting access to those areas of the moving parts strictly necessary for the work must be readily adjustable without the use of tools." For these applications, controlled-torque positioning devices provide the ability to raise, lower, tilt, swivel, and position those guards for better safety protection during equipment operation and for easy access when necessary. These devices can also hold guards in a partially or fully open position without secondary hardware, to provide unrestricted maintenance access.

Interlocking Movable Guards
According to the directive, "interlocking movable guards must, as far as possible, remain attached to the machinery when open...be designed and constructed in such a way that they can be adjusted only by means of an intentional action... (and) be designed in such a way that the absence or failure of one of their components prevents starting, or stops the hazardous machinery functions." Tethered quick-access pins with simple push-button actuation are useful for locking movable safety guards into place, as well as for activating electronic lockout sensors on movable guards. Additional devices such as captive spring-loaded plungers also allow for quick positioning and fixing of sliding guards.

Your Next Steps
For a wide range of fixing solutions compatible with the directive visit www.southco.com. And for a better understanding of New Machinery Directive 2006/42/EC itself, visit http://tinyurl.com/4fwn4z to request a 20-page guide that summarizes the directive and its guard-mounting requirements.

==================================================

Image Caption
Colour-matched high-strength screws for use with high-torque drivers enable designers to designate access points by colour or to coordinate hardware colour with the equipment's industrial design.
DZUS® quick-access quarter-turn fasteners from Southco offer a variety of tool-actuated head styles to help equipment users manage access control.
Clip-on receptacles for captive screws and quarter turn fasteners speed productivity and minimise total installed cost.