www.industryemea.com
Written on Modified on
When choosing a linear actuator, portability is often overlooked. And if you intend to use the actuator in multiple locations, you can't wait for the actuator vendor to provide field support each time the unit moves.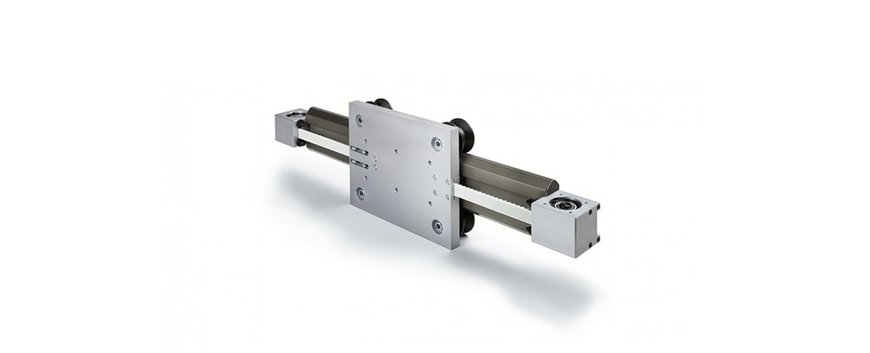 A project's time and productivity can depend on how much effort is needed to transport and install the actuator. This was the situation facing a large aerospace and defense technology contractor when it called Rollon.

The customer was looking to incorporate a jointed linear actuator that could deliver controlled motion to a fabric cutting tool. The actuator had to provide 60 inches of stroke and be able to be broken down into smaller segments — each no longer than 40 inches in length — for easy transport. Since reassembly has the added burden of realigning the actuator's jointed sections, the customer also wanted an actuator that could be rebuilt by a field technician without in-person support from Rollon. And, the nature of the fabric cutting operation meant that the actuator had to withstand fibrous contamination.

Other requirements were:

A 25-pound payload
Support 25 pounds of drag force exerted during the cutting operation
Table mount-carriage up mounting orientation
Duty cycle of 20 cycles per hour.
Speedy Rail and Rollon Service: A Cut Above
Because we manufacture a wide variety of actuators, we offered a standard unit that we were able to modify to address this unique application: the Speedy Rail SAB 120. The Speedy Rail family of self-supporting yet lightweight motion systems offers a host of features that meets the customer's most important needs: They're easy to assemble and disassemble, are lightweight and modular, and they resist contaminants typically found in fibrous environments, as well as dust, dirt and debris during transport.

Speedy Rail also features an extruded aluminum rail construction and deep hard anodized surface treatment that gives the family high load capacities with no maintenance and lubrication required. The systems can be used as linear rails or actuators.

And when it came to customizing the unit for easy setup and dismantling, our support team answered that challenge as well. We provided a dovetail junction plate that allowed the two segments of the profile to be joined and aligned simultaneously. The only personnel needed is the operator, who simply tightens the bolts on the junction plate to ensure proper alignment. Once the two profile segments are connected with the junction plate, the only thing left to be done is to tension the belt.

A Wide Selection of Actuators Helps Tackle Unique Requirements
This successful application is yet another example of how our wide and varied portfolio of actuators allows us to satisfy challenging requests across unique application areas. With the help of our tech support team, we turned a standard Speedy Rail system into a solution that met the customer's performance, transportation, contamination resistance, cost and schedule requirements. Since the customer selected the custom Speedy Rail SAB 120, no problems have been reported out in the field and additional units have since been ordered.

www.rollon.com