www.industryemea.com
Written on Modified on
As the COVID19 epidemic continues to spread, keep social distance has become an important measure in people's lives when the vaccine cannot be vaccinated on a large scale to prevent the epidemic from spreading. However, it is still unavoidable to avoid contact at all in daily life, and you must wear a mask when contacting.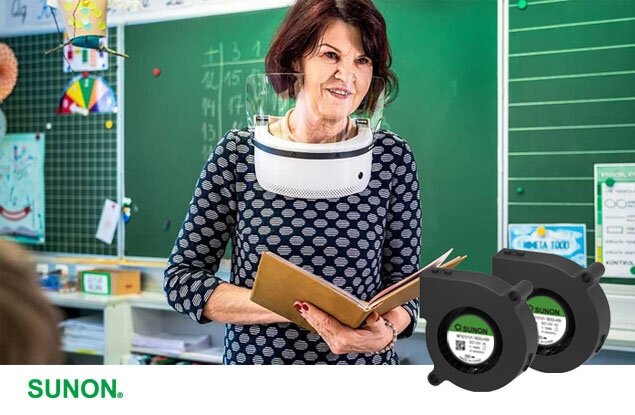 It has become a necessary protective measure. According to OceansAsia statistics that during 2020, around 1.5 billion face masks ended up in the ocean, bringing serious pollution concerns. Therefore, the development of reusable personal wearable protective device has become one of the most important tasks for enterprises to develop creativity.
SUNON's compact fans and blowers have extremely light weight, low power consumption, and high air volume characteristics, and can be widely used in wearable air purifiers, electronic masks, etc.
Respiray Ltd. (SUNON official distributor LEMONA electronics's customer) is an Estonian based startup who is developing safe, social and sustainable solutions to combat the current COVID-19 crisis. It has designed and engineered its first product - an unique wearable air purifier - in its headquarters in Tallinn and also assembles the final product in their home country Estonia. This device can be worn on the shoulder, creates a clean air zone around the wearer's face without covering their face or restricting their breathing; its air purification system uses 2pcs SUNON MF50151V1-1B000-A99 blower , provides optimal air flow performance and low power consumption. The non-replaceable batteries last for up to 8 hours, driving an air flow of 55l/minute, Provide a new choice of personal protection when face to face.
Respiray Ltd. has been featured in Reuters, CNN, Daily Mail, Yahoo News and has a considerable amount of followers in its social media channels.
One of the most prominent startups solving the problems of the on-going pandemic – Respiray Ltd. – has developed its one-of-a-kind wearable air purifier in cooperation with SUNON. "I am not exaggerating when I say that we have tested over 100 suitable fans from manufacturers across the globe. We have not yet found a more reliable, silent and reasonably priced solution than what SUNON is offering," indicated Aare Taveter – Chief Technology Officer of Respiray.
Respiray is further developing products utilizing their patent-pending UV-C module and the majority of the products are equipped with Sunon fans to circulate the air through their devices. The Chief Operating Officer of Respiray – Robert Arus – has indicated they are extremely happy to create long-term partnerships with companies who share their values. "Reliability, trust, quality – these are the keywords that we stand for. From our experience, we see that SUNON is sharing this mindset and I am eager to see where this cooperation will take us."
SUNON is focused on the research and development of core motor technology and their micro-motor fans are ranked third in shipping amount in the world. In the field of motors, fans, cooling modules, ventilation and air purification solutions, SUNON has continuously innovated and set the pace for the industrial trends for decades.
www.sunon.com