www.industryemea.com
Written on Modified on
Connectivity and energy saving with the new CAREL µRack
Energy efficiency for condensing units and compact compressor racks.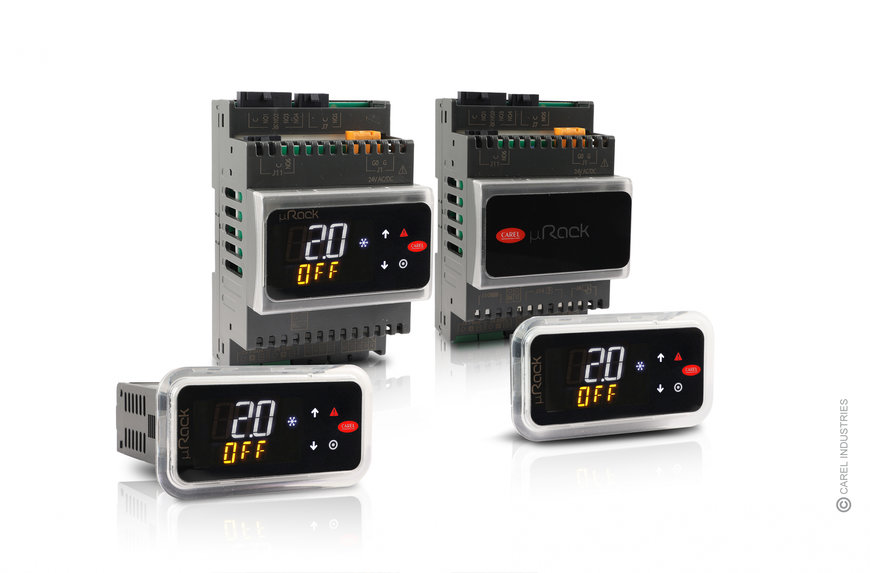 CAREL has been chosen by MB Frigo, a company specialising in engineering, manufacturing and service of air conditioning and refrigeration units, as its partner for equipping a small refrigeration system in a new convenience store in Zagreb. The chosen solution is the new µRack control system, featuring fast commissioning, simplified interaction and significant energy savings.

To meet the needs of the final customer, specifically regarding efficiency and energy saving, MB Frigo identified CAREL as the supplier of the ideal solution for the new convenience store. This partnership made it possible to supply a small compressor rack equipped with μRack, CAREL's new generation compact control system, featuring advanced connectivity and dedicated energy saving functions. The system offers an easy-to-navigate user interface and quick parameter setting, enabling unit commissioning and setup in record time.

The µRack control system has three major benefits:

simplified interaction: NFC and Bluetooth connectivity extend the features of the user interface, including interaction via the dedicated CAREL APPLICA mobile app;
energy saving: management of modulating loads ensures the highest efficiency. Thanks to the 0-10 V analogue outputs, the variable-speed fans and compressors always operate at the minimum conditions required by the cooling load, based on the outside temperature;
direct connection to the boss supervisor: with built-in ModBus protocol management and BMS serial port, the µRack controller can be connected directly to CAREL or third-party supervisory systems, enabling further synergies for energy saving and alarm monitoring.
MB Frigo stated: "The new CAREL μRack controller represents the ideal compromise in a context that sees the return of small supermarkets, where a complete system controller in a compact package is needed. The µRack solution was a perfect fit for our compressor rack, offering fast commissioning and wireless connectivity via NFC and Bluetooth".

What is µRack?
It is the CAREL controller for condensing units and compact compressor racks operating with HFCs and HFOs. Two compressor lines (with up to 4+2 compressors), energy saving options (floating condensing stage control, compressor and fan modulation), compressor protection against liquid return and generic functions that can be set using the APPLICA app, connected to the device via Bluetooth or NFC: everything can be easily configured via a user interface that simplifies unit configuration and commissioning in the field. The entire range also features a BMS port for connection to supervisory systems.

The µRack family will be further enhanced throughout the year by a model for management of transcritical CO2 systems, making it easier to adopt natural refrigerants on condensing units and small compressor racks.
More information: https://www.carel.com/product/mra-1

www.carel.com