www.industryemea.com
Written on Modified on
As one of the leading manufacturers of components, systems and solutions for electrical engineering and automation, Eaton's Electrical Sector or is launching new DC-Switch-Disconnectors. The constantly growing requirements placed on the efficiency of PV installations require operating voltages above the previously usual limits of 1000 VDC. Eaton has consequently further developed its proven DC switch-disconnector product series. Switches for up to 1500V DC with rated operational currents up to 1600A are now available. Switches and accessories are now suitable for ambient temperatures up to 65°C. Typical applications for example are switch-disconnectors in generator terminal boxes, as well as isolating main switches that are suitable for use as maintenance and repair switches on the incoming side of the DC/AC inverter.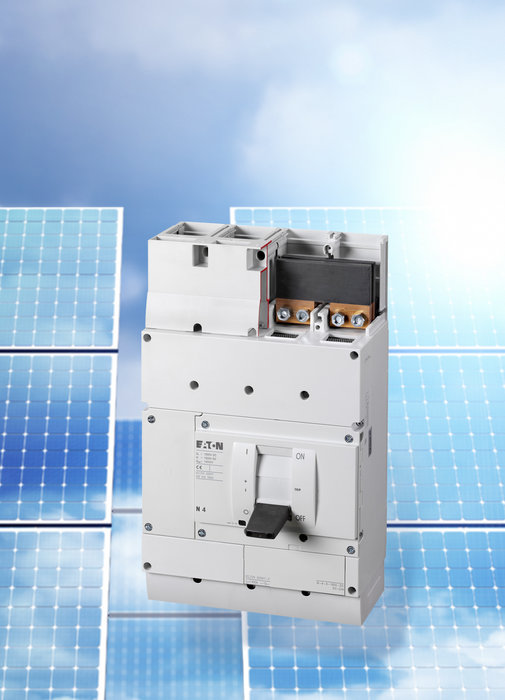 The switches are based on 4-pole switch-disconnectors from the AC range have been optimized in terms of their creepage and clearance distances and the contact elements in order to control the increased load placed on switching and quenching behavior with voltages up 1500V DC at a full rated current.
All switches meet the requirements of DIN EN 60947-3 and comply with utilization category DC-22A for switching mixed resistive and inductive loads, including the fourfold overload with an L/R ratio of ≥2ms. These conditions ensure that the contacts achieve an electrical lifespan of up to 2500 operations - at the full rated current. The mechanical and de-energized lifespan achieves values up to 20,000 operations. The switches thus provide sufficient reserve capacity to perform the standard duties of isolating maintenance and repair switches reliably and safely over many years.
Extremely compact bridge kits with contact protection up to IP2x are available for connecting switch contacts in series. These bridges are suitable for ambient temperatures up to 65°C, are factory tested in combination with the switches and enable rapid mounting in restricted space. All the modules from the standard range required for automated use can be combined as accessories, such as rotary drives and remote operators, voltage releases and suitable connection terminals depending on the cable type.
More Infos: www.eaton.com/moellerproducts, Quicklink ID: ES2308
Caption: Eaton's New Switch-Disconnectors 1500V/1600A