www.industryemea.com
Written on Modified on
REDEX should announce a new record with the signing of more than 10 contracts for the supply of the Tandem Rolling Mills throughout the world over the last 12 months. In addition, the company will unveil its new range of Rolling Mills producing PV ribbon (photovoltaic copper thin sections)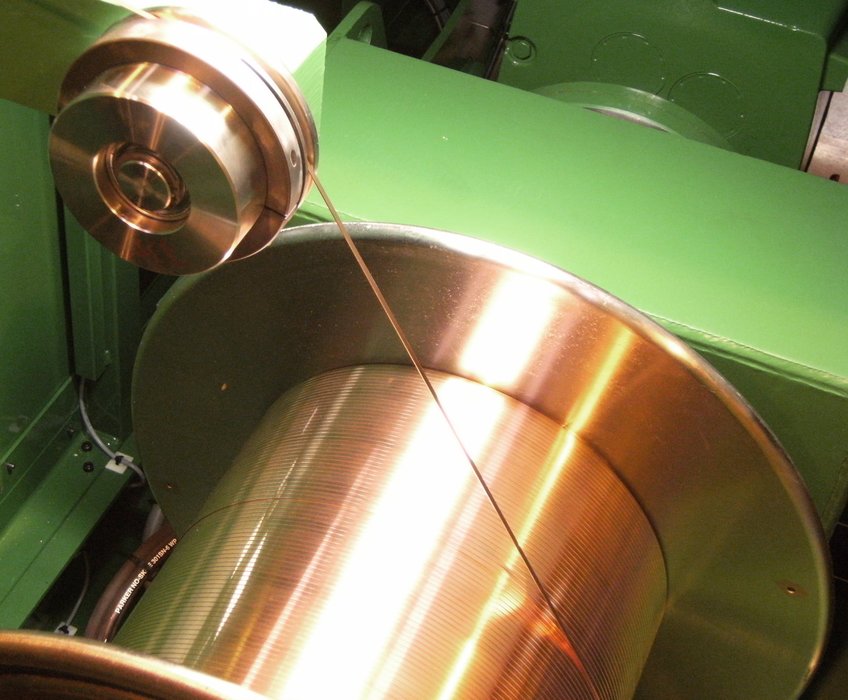 REDEX, world leader in precision Rolling Mills
REDEX is clearly the world leader, with a market share in excess of 90% of the Rolling Mills segment purpose designed for the manufacture of Flat Magnet Wire (rectangular copper section wire).
After finishing and insulation, the flat magnet wires laminated on Redex equipments become high performance electrical conductors, dedicated to coil winding operation in numerous applications, such as high power and distribution transformers, windmills generators or traction motors for railway applications.
The market is expanding, which has enabled REDEX to reach new sales records. Numerous equipment renewal and refurbishing plans of power infrastructures have taken place over the last 2 years. The market is extremely dynamic worldwide: the main contracts are for China, India, Brazil, the United States, Mexico and even the Middle East.

Exceptional start-up assistance and service throughout the World
In March 2010, REDEX commissioned its 75th wire Rolling Mill. This Rolling Mill was custom designed for the production of magnet wire used for winding high performance railway traction motors. This Rolling Mill was launched into production under the supervision of Redex engineers in Hunan Province where the giant Chinese railway company manufactures the future local version of ther the very high-speed train.

Experience and innovation
At the Tianjin WIRE ASIA show, REDEX will also introduce a new generation of Rolling Mills for the production of Photovoltaic flat copper wire. To answer the new market requirements, REDEX has been developing for several years a new and compact mill concept, which associates high productivity, very tight tolerances (+/- 2 microns) and a perfect surface finish quality. The design of this solution takes direct benefit from both the know-how built-up by REDEX on flat magnet wire Rolling Mills, and from its high skills in high precision metal foil rolling (precious metals, etc.).
Numerous meetings have already been scheduled during the 2010 WIRE ASIA show. The signature of several contracts is expected with deliveries for some of the equipments expected for no later than September 2010. Such very short delivery time relies on the perfectly controlled REDEX manufacturing cycles.
The worldwide leadership of REDEX in the Rolling Mills market relies on its over 50 years experience. But it relies also on its ongoing investments in R&D (on average, 8 % of its turnover is dedicated to research & development activities), as witness the portfolio of about 20 active patents, meaning a clear technological leadership in several key technologies.

Accuracy and technological control
The work of the REDEX Rolling Mills consists of continuous transformation of rough copper rod (coming from continuous casting runs) by cold deformation and calibration at high speed into flat section wire. The dimensions of the rectangular section must be guaranteed within a few microns tolerances.
As the production speed on these machines commonly reaches 10 m/s, such precision can only be reached through an extreme stiffness of the Rolling Mills mechanical structure and an accurate and especially optimized dynamic drive and calibration system. Moreover, the strict observance of tolerances guarantees not only the quality of the product, but also the efficient use of the correct quantity of materials. This is a significant saving factor, as the annual production of a Rolling Mill workshop may reach up to 30,000 tons.

Automation and productivity
The full process automation is crucial as well, always built by REDEX from the most innovative technologies (industrial PCs, programmable controllers, field bus, etc.). This closed loop based control system usually benefits from the feedback of laser dimensional measurement systems, which are extremely accurate, even at high speeds.
In addition, the human interface for real time supervision has been specifically developed by REDEX to optimize the global equipment performance (MOSIP FIRMWARE). This supervision system take a large benefit from REDEX experience accumulated over several decades.
This supervision system make possible to guarantee tolerances, to manage production orders and above all, to access a global settings database for unlimited different manufacturing runs.
Thus, not only are manufacturing changes simpler, but they are also much faster. The gain is huge: a user may have to alternate the manufacturing of up to 2,000 different products with 600 different tools.

Skills and integration
To design these highly sophisticated production tools, REDEX staff includes a multi-disciplinary team of more than 30 engineers, specialized in mechanics, automation, industrial electricity, information technology, etc… in its two design offices.

From the mechanical point of view, REDEX integrates in its workshops all the skills and machine-tools that guarantee a total quality control for all the high precision mechanical components integrated in its Rolling Mills construction.
Over the last 3 years, more than 10M € have been invested in its CAO design tools, in the production and quality control equipments, and in the improvement of its industrial plants organization. At the same time, REDEX has provided on average over 5,000 hours of training for its employees, to enable them to fully manage the most modern design and calculation software as well as the last generation of manufacturing machine-tools.