www.industryemea.com
Written on Modified on
SC21 – 21st Century Aerospace, Defence, Security and Space industry Supply Chain Programme.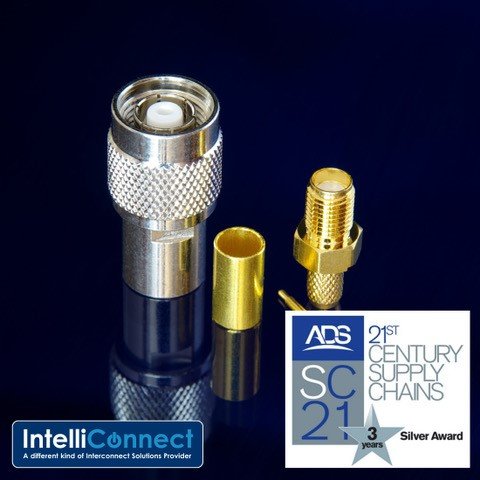 Intelliconnect (Europe) Ltd the UK based specialist manufacturer of RF, waterproof and cryogenic connectors and cable harness assemblies has been re-approved to the SC21 Silver Performance Standard Award for a third consecutive year by the SC21 Board of ADS, the Trade Organisation for the Aerospace, Defence, Security and Space Industry Supply Chain Programme.
The SC21 Board recognises this as a significant achievement which is nationally recognised and has offered their congratulations to the entire team at Intelliconnect for obtaining this important recognition award as part of their supply chain excellence journey.
ADS has had over 850 active participating companies, ranging from SMEs to prime contractors, signed up to the principles of SC21, all engaged in demonstrating their continuous performance improvement.
Roy Phillips, Managing Director of Intelliconnect, comments, "It's a great testament to our whole team that we have continued to meet the stringent requirements of SC21 during such a difficult year during which we actually managed to grow our sales by 30%. Since achieving our first bronze award in 2016 we continue to be focussed on continuous improvement, and I must thank all our staff for their great efforts. The award is recognised throughout our major markets and assures our customers that supply chain excellence is one of our key goals."
SC21 is a change programme designed to accelerate the competitiveness of the aerospace and defence industry by raising the performance and reliability of its supply chains. International competition, together with the challenges posed by the Defence Industrial Strategy, necessitates rapid improvement in the effectiveness of UK supply chains. At the same time UK industry must ensure that it delivers competitive solutions for customers whilst maintaining profitable business growth.
Recognition can occur only after all of the SC21 required framework elements have been proved to meet the required criteria in terms of delivery, quality, sustainable improvement and the associated improvement frameworks including business and manufacturing excellence.
Roy Philips, continues, "This is a major achievement for a business of our size without having the support of a prime defence subcontractor. In the current political and economic environment, it has never been more important to us and it will ensure our position at the top table of suppliers to aerospace and defence industries."
Meeting the requirements of the SC21 accreditation provides Intelliconnect with an important tool to manage and improve the company and has already had a positive effect on their business. SC21 provides a robust framework for operational improvements at minimal cost to the business by applying lean production principles and tools combined with a continuous improvement philosophy.
"Compliance to SC21 will increase our manufacturing efficiency and competitiveness, goals we have been striving to meet internally for a very long time." Concludes Phillips.
Intelliconnect (Europe) Ltd is the largest UK based manufacturer of RF, microwave, waterproof and cryogenic connectors and cable harnesses suitable for applications including wearable technology, medical, telecoms, satcoms, military, aerospace, space, general microwave communications, rail traction, oil and gas and marine. Intelliconnect also manufacture the market leading Pisces range of waterproof RF connectors, coaxial adaptors to facilitate inter-series connection and gender change etc. dust-caps and offer value added services.
Their recently launched and fast-growing cryogenic cable assembly business
CryoCoax
supplies the growing market for quantum computing, medical, research, test and measurement and the emerging low temperature computing markets.
Intelliconnect's cable division are specialist manufacturers of affordable, high quality, high frequency microwave cables including triaxial assemblies, semi-rigid, semi-flexible and cryogenic cables as well as standard RG/LMR type products. Cables can be waterproofed to IP68 and include special features including phase matching and ruggedised assemblies for use in harsh environments.
www.intelliconnect.co.uk