www.industryemea.com
Written on Modified on
The stainless steel immersion float switch is the freely configurable one-​size-fits-all solution for monitoring empty and overflow in process plants and tank applications.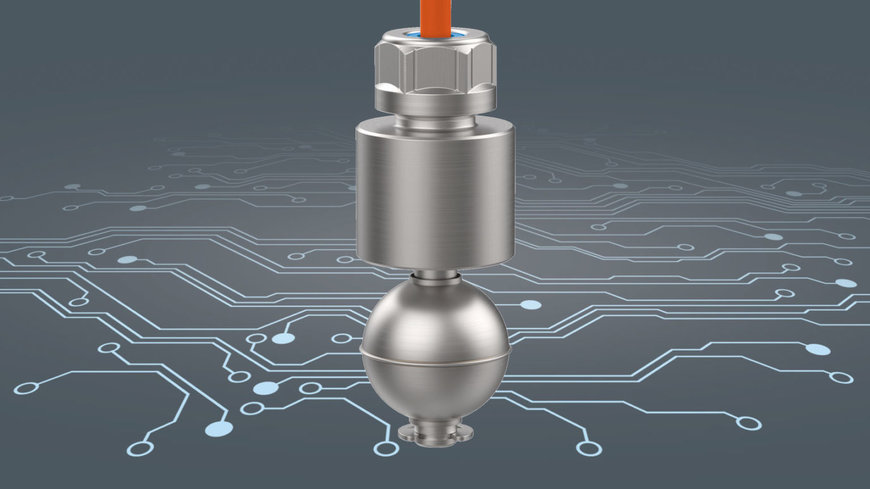 Our 20991102 immersion float switch takes flexibility in level measurement to a new level. Its freely adjustable switching points allow variable switching heights – which standard float switches cannot achieve due to the rigid riser tube. Additionally, the immersion float switch uses robust PUR (polyurethane) cables. Even in applications that are difficult to access, these allow easy installation.
The immersion probes are based on robust reed technology and can be attached to the tank opening by means of threaded sets. The float switches are particularly suitable for monitoring tank applications and for empty and overflow control in process engineering. In these applications the level sensor is hung into the tank from above and is completely submerged when the tank is full. How this works can be seen in the video.
The stainless steel immersion float switch in the video


One size fits all

In keeping with this maxim, developers and designers can adapt the switching points via the cable length and cable gland. Mounting modules made of PA6 (polyamide) are available in two sizes for the cable gland. The G1″ threaded set is suitable for applications with only one immersion float switch.
The G2″ version allows the use of up to four immersion float switches. The number of immersion probes used determines the number of possible switching points. By simply rotating the float, you can choose between normally open and normally closed contact.
Mounting module for immersion float switches

The mounting module is designed for use the immersion float switch 20991102. The mounting module connects up to 4 cable glands to which the immersion float switches are fixed.
MOUNTING MODULE G2"

This immersion float switch is mainly made of stainless steel. It is therefore suitable for level measurement of water, oil and chemicals. With the use of reed technology, protection class IP68 (DIN EN 60529), switching voltages of up to 48 V and a temperature range of -40 °C to +90 °C, the level sensor meets the most common requirements in industrial use. With the flexibility of use and adjustability of switching points, the requirement for multiple types of immersion switches is reduced. This saves both storage space and costs for unused spare parts.
www.elobau.com