www.industryemea.com
Written on Modified on
The CBS ArcSafe RRS-3 MDSR1 allows workers to install and remove circuit breakers while standing outside the arc flash hazard zone (50 feet away from the operation).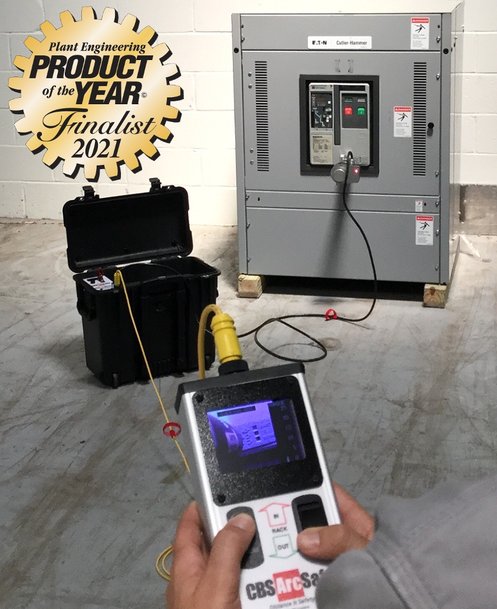 CBS ArcSafe
®
, a leading manufacturer of remote racking and switching solutions for low- and medium-voltage switchgear, is proud to announce that its
RRS-3 MDSR1
single-application remote racking system (RRS) has been selected as a finalist for Plant Engineering magazine's Product of the Year award in safety and security.
The system is designed to operate Eaton/Cutler-Hammer Magnum DS and SB air circuit breakers without any modifications to existing electrical equipment and is compatible with breakers with ratings of 800–4000 A. The system's motor attaches quickly to a breaker's racking mechanism. The drive element goes through the racking window and is attached by lowering the latch into the lockout/tagout device. The motor detaches just as easily. The RRS-3 MDSR1 features an onboard video camera with a digital display, allowing users to remotely monitor a breaker's position indicator, racking sequence, and applied torque.
Plant Engineering magazine is part of the CFE Media family. Qualified subscribers to CFE Media products can
vote for the CBS ArcSafe RRS-3 MDSR1
now through March 11, 2022. The results will be announced online on April 25, 2022, and in the May/June 2022 issue of Plant Engineering.
www.cbsarcsafe.com