www.industryemea.com
Written on Modified on
Complete terminal block range with all wire connection options
CONTA-CLIP, a specialist in connection technology and one of Europe's leading terminal block manufacturers, offers a range of terminals that is unique on the market in terms of comprehensiveness and advanced design.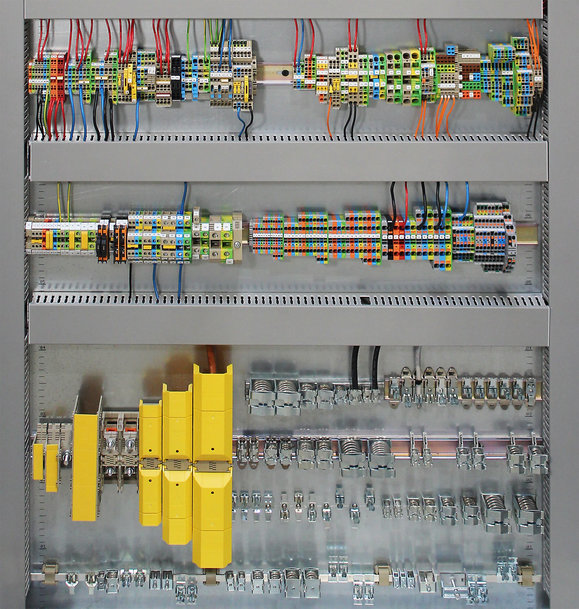 The proven CONTA-CLIP terminal block range features all wire connection types: screw, bolt-on, tension spring and push-in connection.

The highly differentiated lineup provides wiring and connection solutions for every requirement and includes several terminal series with all connection types: screw, bolt-on, tension spring and push-in connection.
The SRK series features screw-connection terminal blocks in single and double-tier versions for wire cross sections from 0.08 mm² to 240 mm², including protective conductor terminals and various functional variants for fuse, test and measurement purposes. HSKG-type high-current bolt-on terminals are designed for energy transmission applications over 296 A. They provide current-carrying capacities of up to 520 A and rated voltages of up to 1000 V. HSKG terminals are available with combination washer and hex-nut bolt sizes between M6 and M16 for wires from 2.5 mm² to 300 mm².
Hinged contact covers and terminal feet that grip the mounting rail from both sides ensure high safety and a secure hold. The terminal range with tension spring connection for wire cross sections from 0.2 mm² to 16 mm² comprises ZRK/ZSL feed-through and PE terminals in single and double-tier versions, ZIKD three-tier terminals as well as motor-connection, disconnect, fused, direct-mount and initiator/actuator terminals for position, encoder and alert signaling.
For particularly time-saving and convenient wiring via push-in connection, CONTA-CLIP offers the FRK series as well as the new PRK series, which is currently one of the most advanced push-in terminal series on the market. The PRK series provides large diversity and particularly easy handling due to enlarged insertion channels, minimized engaging forces and integrated pushers.
PRK terminals extremely space-saving due to their tall design with vertical wire insertion from above, which allows installation at a minimum distance to the wiring channels and thus very compact installations. The PRK and FRK push-in series are currently available for conductor cross sections from 0.2 mm² to 25 mm², with feed-through, PE, disconnect, fused multi-tier, installation and initiator terminals.
"Our terminal block portfolio for all relevant connection options is designed for broad compatibility, so it meets all technical and individual requirements of our customers," says Jörg Nowastowski-Stock, Managing Director Sales and Marketing at CONTA-CLIP. "Each connection type offers specific application-related advantages. In addition, our portfolio also takes into account differing preferences from user to user. Thus, we cover all needs, so our customers will find any connection solutions they are looking for."
www.conta-clip.com